TheBat!Sync v1.1.6 for Windows Mobile™
DESCRIPTION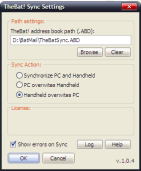 New opportunities for users of TheBat! – TheBat! Sync now for PalmOS and Windows Mobile!.

TheBat! Sync has been developed in attempt to significantly simplify daily activities and communications for those who use TheBat! superior e-mail client and can not do without their handheld with PalmOS or Windows Mobile. The program is extremely useful if you are flexible and mobile and always want to have your address book by your side. The program becomes even of more importance if you have over a hundred records in your address book.

TheBat! Sync is a special synchronization module which enables you to edit your contacts' details (name, phone number, e-mail address, notes) either on you handheld or your PC or laptop and then all you need to do is only to perform synchronization which is standard for your particular handheld model. All the changes made to your contacts will be thus mutually synchronized.

With the help of this module you can easily synchronize address books between copies of TheBat! on several different PCs. This allows you to have the most up-to-date contacts' information both at your working place, at home, at your laptop and, more importantly, on the tip of your stylus.

Currently there are two versions of TheBat! Sync available:
TheBat! Sync for PalmOS – version 1.5.0
Thebat! Sync for Windows Mobile – version 1.1.6
TheBat! Sync – is a result of days of re-programming, weeks of testing, dozens of letters from our test-users and hours of troubleshooting. We would be happy to know that it could be of help to you.

For further information, new versions of the program, requirements and installation details, please, refer to our home page: http://www.artelplus.com/thebatsync.php

HOW TO INSTALL

Before you start the setup process, please, connect your Windows Mobile" device to your PC.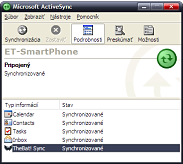 Please run the TheBatSyncWM_Setup.exe (setup wizard) to install the Sync Module on your Windows PC (notebook) and your Windows Mobile PDA. The wizard will copy all necessary files to your hard drive and register the Sync Module with ActiveSync manager.

When the setup wizard completes all tasks, you need to reconnect your Mobile Device with your PC. After you reconnect your mobile device, you should see "TheBat! Sync" item listed in the synchronization list.

If "TheBat! Sync" is not listed in the ActiveSync main window, please check the following:
Open ActiveSync window and select "Tools" -> "Add/Remove programs.." menu item. Make sure "TheBat! Sync" item is on the list, and it's checkbox is set.
Open ActiveSync window and select "Tools" -> "Options" menu item. Make sure "TheBat! Sync" item is on the list, and it's checkbox is set.
Reconnect your Mobile Device to your PC.
In order to properly establish synchronization between you PDA and PC, please, refer to the "Settings" section of TheBat!Sync help file.

While evaluating the software, you are able to sync only a limited number of address records both on your mobile and TheBat! When you purchase a license you will be able to sync the entire address database from your mobile and TheBat!.